GenePro LAMP
GenePro LAMP COVID-19 test
GenePro LAMP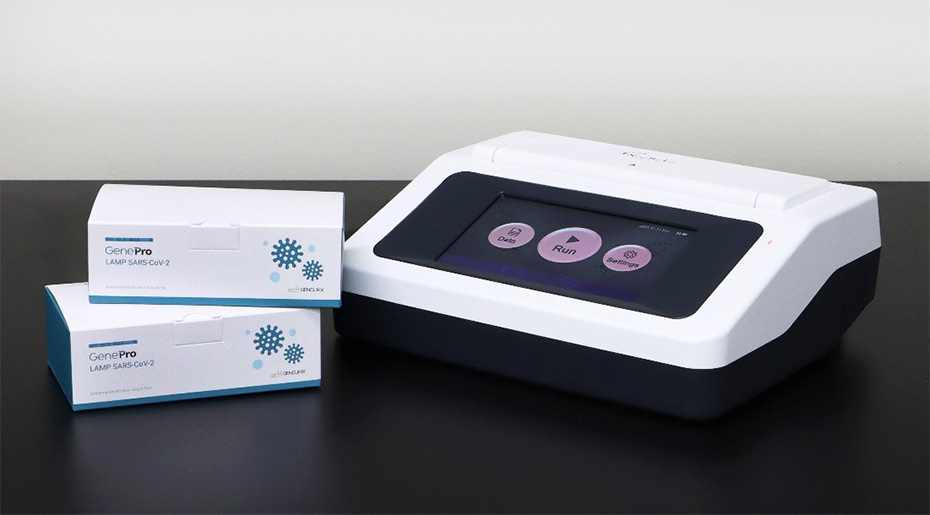 GenePro LAMP Test Solution is to facilitate on-site testing for rapid, convenient and simple detection of various infectious diseases. GenePro LAMP SARS-CoV-2 Test Kit can be offered as a package with GenePro LAMP cycler and GenePro VTM. A total solution can be available from sample collection to real-time LAMP testing.

GenePro LAMP Test allows rapid point-of-care detection of target genes with portable LAMP cycler which allows to check the test results in real time on the spot without any restrictions of location or space.
GenePro LAMP
cycler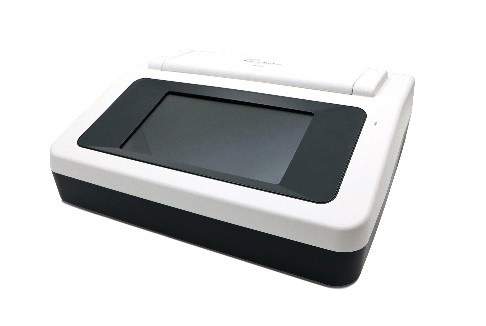 GenePro LAMP Cycler is the device for Loop-mediated Isothermal Amplification. In the LAMP method, target-specific primers create a loop structure and DNA polymerase is used to conduct a loop-mediated reaction at a constant temperature (60~65℃). GenePro LAMP cycler allows a real-time amplification with 4 fluorescence channels (FAM/SYBR Green, HEX, ROX, Cy5) at 35~75℃.
Highlights
01

Isothermal Amplification: Faster than real-time PCR

02

Cost effective & higher sensitivity with 4 optical channels

03

Intuitive touch screen with simple and direct interface
Specifications
Parameter
Description / Values
# of Samples
16 wells (2×8-strips)
Sample Volume
10~150 μL
Fluorescence channels
FAM/SYBR Green, HEX, ROX, Cy5
Temp.
Control Range
35~75 ℃
Accuracy
±0.2 ℃
Uniformity
±0.5 ℃
Size (mm) (Width x Depth x Height)
293 x 245 x 109
Input Power
100-240 V, 50-60 Hz
Operating System
Linux family
Display
7 inch color LCD (Touch screen)
Interface
2 USB 3.0 ports
Data Storage
≤ 2,000
GenePro LAMP
SARS-CoV-2
Test Kit
GenePro LAMP SARS-CoV-2 Test kit is a real-time reverse transcription loop mediated isothermal amplification (real-time RT-LAMP) test intended for the qualitative detection of nucleic acid from SARS-CoV-2 in upper respiratory specimens including oropharyngeal and nasopharyngeal swab, from individuals suspected of COVID-19 by their healthcare provider. It allows qualitative detection of RdRp gene and N gene simultaneously. RdRp gene has specific sequence from SARS-CoV-2 and N gene is common sequence within coronaviruses.
Kit Features
Detection Target
Coronavirus disease (COVID-19)
Target region
Amplify

N

gene and

RdRp

(Orf1ab) gene of SARS-CoV-2
Type
Real-time reverse transcription loop-mediated amplification (RT-LAMP)
Specimen
Nasopharyngeal / Oropharyngeal
PCR machine
GenePro LAMP cycler (Gencurix), CFX 96 Dx System (Bio-rad)
Storage Condition
-20℃ or below
Shelf life
12 months
Running time
Results in 30 minutes
Test / Kit
96 tests
GenePro VTM
GenePro VTM (GenePro Viral Transport Medium/GenePro Rapid Extraction VTM) is a ready-to-use virus transport medium with a collection swab. It allows safe transfer of viruses from samples collected from upper respiratory tract.