Droplex
Genetic testing based on Digital PCR platform
Droplex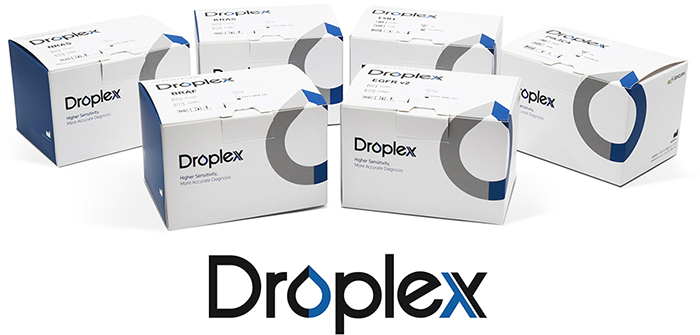 These tests detect DNA mutations by analyzing certain genes extracted from the patient's blood and tumor samples based on ddPCR platform which is optimized for companion diagnostics. They select patients who benefit the effectiveness of cancer treatment.
ddPCR
Platform
Compared to traditional biopsy for gene mutation detection, blood samples require more sensitive testing because of their low DNA extraction. Digital PCR technology, ddPCR*, is a advanced platform specialized in liquid biopsy samples because it can detect mutations accurately even with a small amount of DNA.
* The kits are manufactured and sold under license from Bio-Rad.
Droplex
Test Series
Droplex EGFR v2
Target: Non-small cell lung cancer(NSCLC)
Detection: 107 EGFR mutations
Mutations
Exon 18
Exon 19
Exon20
Exon 21
G719X
G724S
L718X
E19del
T790M
S768I
C797X
E20ins
L858R
L861Q
3
1
2
59
1
1
4
33
2
1
X
Droplex KRAS
Target: Metastatic solid cancer(Non-small cell lung cancer, Colorectal cancer, pancreatic cancer
Detection: 36 KRAS mutations
Mutations
Codon 12
Codon 13
Codon 59
Codon 61
Codon 117
Codon 146
G12X
G13X
A59X
Q61X
K117X
A146X
10
8
3
7
4
4
X
Droplex KRAS G12/13
Target: Metastatic solid cancer(Non-small cell lung cancer, Colorectal cancer, pancreatic cancer
Detection: 17 KRAS mutations
Mutations
Codon 12
Codon 13
Codon 59
Codon 61
Codon 117
Codon 146
G12X
G13X
A59X
Q61X
K117X
A146X
10
8
3
7
4
4
X
Droplex NRAS
Target: Melanoma, Colorectal cancer, Thyroid cancer
Detection: 8 NRAS mutations
Mutations
Codon 12
Codon 61
G12X
G13X
6
2
X
Droplex BRAF
Target: Metastatic solid cancer(Melanoma, Colorectal cancer, Thyroid cancer)
Detection: 5 BRAF mutations
Mutations
Codon 600
V600E
V600D
V600K
2
2
1
X
Droplex PIK3CA
Target: Metastatic solid cancer(Breast cancer, NSCLC)
Detection: 42 PIK3CA mutations
Mutations
Exon 1
Exon 4
Exon 6
Exon 9
Exon 13
Exon 20
R88Q
N345K
C420R
E542X
E545X
Q546X
E726K
M1043X
N1004X
A1046X
H1047X
H1048R
G1049X
1
1
1
6
6
6
1
4
5
2
6
1
2
X
Droplex ESR1
Target: Breast cancer, Endometrial cancer
Detection: 17 ESR1 mutations
Mutations
Exon 5
Exon 7
Exon 8
E380Q
S463P
L536X
Y537X
D538X
1
1
5
8
2
X